How is Staffline leading the recovery of the logistics sector post-lockdown?
COVID-19 has brought with it a series of issues leading to devastating economical damage and has left businesses across the globe having to create new strategies to meet changing consumer demands.
As the biggest recruiter in the UK & Ireland, Staffline had a duty to react quickly and introduce operational changes to combat the implications of the pandemic.
Join Frank Atkinson (Group Managing Director of Staffline) and Neil Carberry (CEO of the REC) as they discuss how Staffline navigated the crisis, strengthened working relationships with clients and managed their people to put them on the road to recovery, in the 'Talking Recruitment Podcast - Episode 29'.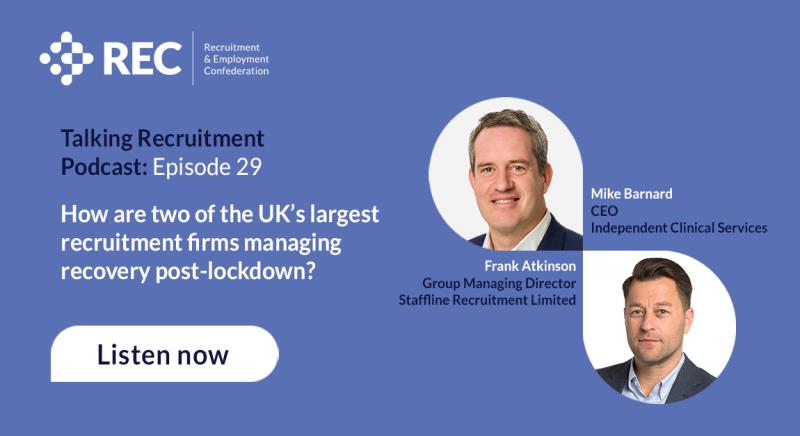 ---
An Overview of Staffline:
Established in 1986, Staffline is now the UK's largest recruiter and workforce provider, delivering OnSite workforce solutions to leading brands. We work in partnership with clients and candidates, meeting business needs and matching people with opportunities.
We specialise in large-scale recruitment, providing teams to help businesses succeed. Our support is flexible to meet changing demands.
We make the world of work simple, helping companies to find the right people and perform at their best. Our service and pricing are bespoke, and we offer complete protection on compliance and ethical standards.
Our OnSite services support a range of sectors including agriculture, food production, logistics, transport, manufacturing and the automotive sector. We're based at over 400 sites nationwide and find work for over 60,000 people each day.
Our new technologies include the AI chat bot, delivering 'always on' communication, the Universe platform, a game-changing candidate interface, and industry-leading customer experience management programme 'Have your Say'. These innovations drive our customer-centric approach. We lead where others follow.
The Staffline Group also includes leading public service provider PeoplePlus - which helps tens of thousands of unemployed and disadvantaged people find work each year.
Find out more at: www.staffline.co.uk