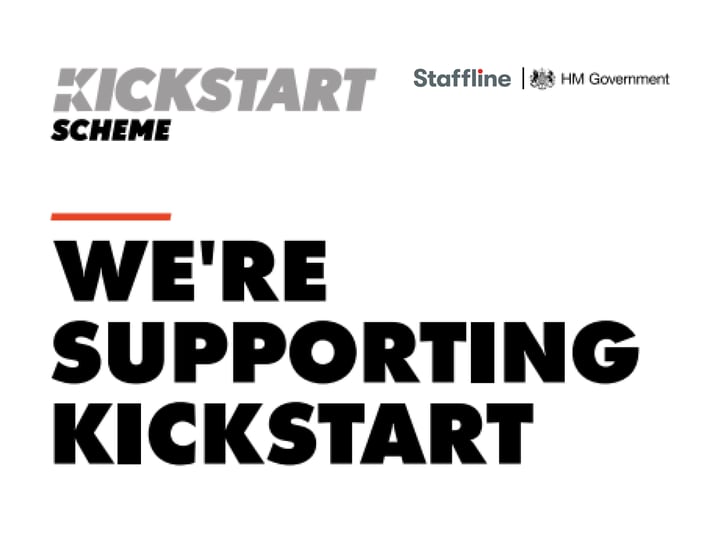 We are delighted to announce that Staffline is supporting the Kickstart Scheme, a £2 billion fund to create hundreds of thousands of high quality 6-month placements for young people!
Throughout 2021 and beyond, we'll be teaming up with HM Government with the aim of supporting young workers through 6-month office-based (or home-based, depending on the state of the pandemic) work.
The Kickstart Scheme was announced on the 8th July 2020 after the Chancellor announced it as part of the Plan for Jobs.
The Scheme initially prioritises young people aged between 16 and 24 who are ready for an opportunity and will be supported by their Jobcentre Plus work coach to enrol in the scheme.
We're currently advertising the following opportunities:
Recruitment Administrators (Branch and Onsite)

Social Media Coordinators

Trainee Payroll Administrators

Trainee Resourcers

Learning and Development Coordinators

Facilities Assistant
These opportunities will be available throughout 2021 and are all 6-month placements.
We're proud to be supporting young workers during these unprecedented times. If you'd like to learn more about our Kickstart vacancies, speak with your work coach!
---
An Overview of Staffline:
Established in 1986, Staffline is now the UK's largest recruiter and workforce provider, delivering OnSite workforce solutions to leading brands. We work in partnership with clients and candidates, meeting business needs and matching people with opportunities.

We specialise in large-scale recruitment, providing teams to help businesses succeed. Our support is flexible to meet changing demands.

We make the world of work simple, helping companies to find the right people and perform at their best. Our service and pricing are bespoke, and we offer complete protection on compliance and ethical standards.

Our OnSite services support a range of sectors including agriculture, food production, logistics, transport, manufacturing and the automotive sector. We're based at over 400 sites nationwide and find work for over 60,000 people each day.

Our new technologies include the AI chat bot, delivering 'always on' communication, the Universe platform, a game-changing candidate interface, and industry-leading customer experience management programme 'Have your Say'. These innovations drive our customer-centric approach. We lead where others follow.

The Staffline Group also includes leading public service provider PeoplePlus - which helps tens of thousands of unemployed and disadvantaged people find work each year.

Find out more at: www.staffline.co.uk