Staffline Ireland has been named as one of the finalists in the Belfast Telegraph Business Awards 2020 for the category of 'Excellence in Management & Leadership'.
The highly-commended awards ceremony (sponsored by Ulster Bank) is an annual event held in Belfast, featuring the years' most innovative, well-managed and resilient businesses in Northern Ireland.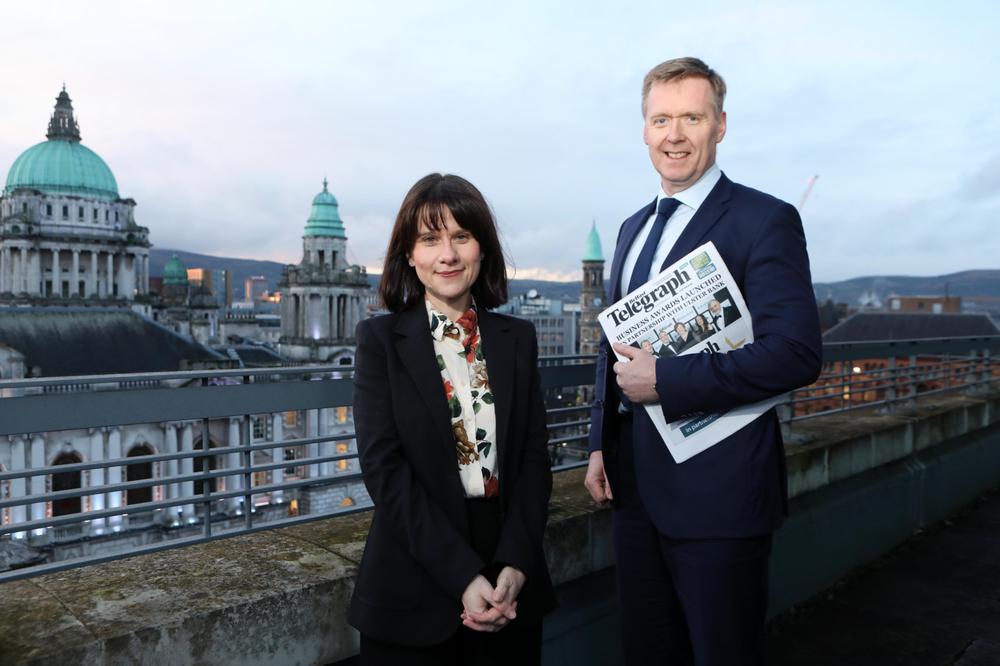 Margeret Canning, Belfast Telegraph Editor, and Mark Crimmins, head of Ulster Bank
The judging panel has held a remote judging session to select finalists in 12 hotly-contested categories, spanning all sizes of businesses in a range of sectors.
The winners of this year's awards will be announced in the autumn along with the recipients of two special awards, Overall Company of the Year and the Lifetime Achievement Award.
The categories and associated finalists for the Belfast Telegraph Business Awards 2020 are:
Excellence in Management & Leadership
- Staffline Ireland
- Henry Group
Agri Business of the Year
- Fane Valley
- Finnebrogue Artisan
Best Large Company
- Edge
- Wilsons Auctions
- First Derivatives
- Henderson Retail
Best use of Digital/Social Media
- Scaffold Digital
- STATsports
- Gander/Rumour Mill
Excellence in Marketing
- Wood Floor Warehouse
- Beyond Skin
- Henderson Wholesale
Best Established Small/Medium Sized Business
- KME Steelworks
- Axial 3D Outsource Solutions (NI) Ltd
Excellence in Corporate Social Responsibility
- Musgrave
- Henderson Wholesale
Excellence in Health & Wellbeing
- Simon Community
- Smurfit Kappa K4 Consultancy
Excellence in Exporting
- AES Global Ltd
- Cubis
- Henderson Technology
Excellence in Innovation
- Precept IT
- SaltDNA
- MRP
- Lowder Guitars
Retailer of the Year
- EUROSPAR Ballyhackamore
- Wood Floor Warehouse
- JC Stewarts
Young Person of the Year
- Conal McGarrity, PA Duffy Solicitors
- Stephen Kissick, Donite Plastics
- Samantha Kirk, Dynamic Signal
Emerging Business/Start-Up of the Year
- K4 Consultancy
- See Me Hired
---
An Overview of Staffline:
Established in 1986, Staffline is now the UK's largest recruiter and workforce provider, delivering OnSite workforce solutions to leading brands. We work in partnership with clients and candidates, meeting business needs and matching people with opportunities.

We specialise in large-scale recruitment, providing teams to help businesses succeed. Our support is flexible to meet changing demands.

We make the world of work simple, helping companies to find the right people and perform at their best. Our service and pricing are bespoke, and we offer complete protection on compliance and ethical standards.

Our OnSite services support a range of sectors including agriculture, food production, logistics, transport, manufacturing and the automotive sector. We're based at over 400 sites nationwide and find work for over 60,000 people each day.

Our new technologies include the AI chat bot, delivering 'always on' communication, the Universe platform, a game-changing candidate interface, and industry-leading customer experience management programme 'Have your Say'. These innovations drive our customer-centric approach. We lead where others follow.

The Staffline Group also includes leading public service provider PeoplePlus - which helps tens of thousands of unemployed and disadvantaged people find work each year.

Find out more at: www.staffline.co.uk