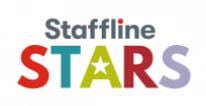 Last week, Staffline announced its overall 'Star of STARS Annual Award' for 2021, in which not one, but eight amazing Staffline colleagues were recognised and rewarded for their performance.
The Staffline Talent And Recognition Scheme (STARS) launched in March 2021, giving everyone the opportunity to celebrate and recognise when Staffline people go above and beyond what is expected of them. Our Senior Leadership team review nominations every week, with STARS winners announced monthly and one overall winner to take the Star of Stars Annual Award at the end of the year.
There were 47 shortlisted Stars award winners for 2021 and selecting just one winner proved impossible. As a result, rules were broken and 8 'Star of STARS' final winners were announced last week! Congratulations to all of you and thank you for going above and beyond.
Shan Saba - Director (Brightwork)
Charley Obahiagbon - Senior Finance Business Partner
Paul Johnson - IT Business Analyst
Marlena Firmanty - Regional Support Manager
Lee Davison - Operations Manager (Driving Division)
Andrew McCann - Project Manager (Driving Division)
Graham Skelton - Project Manager (Driving Division)
Sergio Toderici - FTC (Driving Division)
Interested in joining the Staffline Stars Hall of Fame? We have opportunities across the UK, from Recruitment positions to Payroll and Administrative roles. Visit our Careers page for more information.
---
An Overview of Staffline:
Established in 1986, Staffline is now the UK's largest recruiter and workforce provider, delivering OnSite workforce solutions to leading brands. We work in partnership with clients and candidates, meeting business needs and matching people with opportunities.

We specialise in large-scale recruitment, providing teams to help businesses succeed. Our support is flexible to meet changing demands.

We make the world of work simple, helping companies to find the right people and perform at their best. Our service and pricing are bespoke, and we offer complete protection on compliance and ethical standards.

Our OnSite services support a range of sectors including agriculture, food production, logistics, transport, manufacturing and the automotive sector. We're based at over 400 sites nationwide and find work for over 60,000 people each day.

Our new technologies include the AI chat bot, delivering 'always on' communication, the Universe platform, a game-changing candidate interface, and industry-leading customer experience management programme 'Have your Say'. These innovations drive our customer-centric approach. We lead where others follow.

The Staffline Group also includes leading public service provider PeoplePlus - which helps tens of thousands of unemployed and disadvantaged people find work each year.

Find out more at: www.staffline.co.uk