Last week Staffline Recruitment GB colleagues were invited to kick off 2022 'Starting Fast', with a 4-day Virtual Conference Experience.
With daily events streamed via a 'Virtual Reality Expo', members of the Leadership Team shared the Staffline Recruitment GB strategy for 2022 in a series of TV show style chats, interviews and panel discussions. Over the 4 days, delegates were invited to spend time exploring the Virtual Expo stalls where they were able to; engage with Avatars, explore presentations and watch short videos, in order to learn more about the businesses' 'How We Win Pillars'.
"We really would have loved to get you all together for a face-to-face show, but without being able to make this happen safely for us all, we really do think this is the next best thing. We wanted Starting Fast 2022 to look and feel a little different to our standard teams calls and slide show presentations.'
Frank Atkinson, Group MD Staffline GB.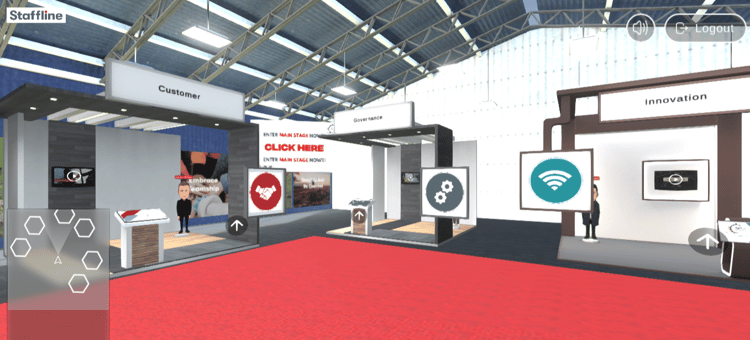 In addition to the Expo Stalls, there were 2 Main Stage 'Shows' streamed live twice a day to allow for a 'live Q&A' with the shows panellists & Staffline Recruitment GB Leadership Team, via the programmes chat function.
Day one burst into action with the three anchor presenters to the 'Starting Fast' event, Sarah Taylor (People Director), Shan Saba (Director, Brightwork Staffline) and Olivia Harker (Development & Engagement Coordinator) setting the scene for an energetic and fun start to the week ahead. Frank Atkinson, (Group MD for Staffline GB) starred in 'On the Sofa with Sarah' to share an insight into his life and Leadership style, before looking back over 2021's challenges and successes, and officially launching the new 2022 Strategic Growth Initiatives for Staffline Recruitment GB.
After the next few days exploring the businesses Strategic Growth Initiatives for 2022, the event came to an end on Friday with Key-Note Speaker, Ben Hunt-Davis MBE, sharing his experiences and asking, 'Will It Make The Boat Go Faster?' and Sarah Taylor's final show, 'Starting 'YOU' Fast''.
Feedback on 'Starting Fast' Virtual Experience has been overwhelmingly positive across the business.
"I just want to say that I find Staffline such an empowering company, on each and every site or industry."
Mirela, commenting on the final day's Live Chat.
'We want to say a massive THANK YOU to each and every one of you who joined in with us this week, it's great to see how many of you took the time out of your busy schedules to 'Start Fast' with us this year'
Sarah Taylor, People Director.
---
An Overview of Staffline:
Established in 1986, Staffline is now the UK's largest recruiter and workforce provider, delivering OnSite workforce solutions to leading brands. We work in partnership with clients and candidates, meeting business needs and matching people with opportunities.

We specialise in large-scale recruitment, providing teams to help businesses succeed. Our support is flexible to meet changing demands.

We make the world of work simple, helping companies to find the right people and perform at their best. Our service and pricing are bespoke, and we offer complete protection on compliance and ethical standards.

Our OnSite services support a range of sectors including agriculture, food production, logistics, transport, manufacturing and the automotive sector. We're based at over 400 sites nationwide and find work for over 60,000 people each day.

Our new technologies include the AI chat bot, delivering 'always on' communication, the Universe platform, a game-changing candidate interface, and industry-leading customer experience management programme 'Have your Say'. These innovations drive our customer-centric approach. We lead where others follow.

The Staffline Group also includes leading public service provider PeoplePlus - which helps tens of thousands of unemployed and disadvantaged people find work each year.

Find out more at: www.staffline.co.uk