Last week, 12 Staffline colleagues completed a two-day MHFA course to become our first ever fully-qualified Mental Health First Aiders!
Employee wellbeing is a major focus for Staffline and we take pride in continually supporting and investing in our colleagues' health and welfare through our Wellness Agenda. We strive to ensure that our colleagues and workers are offered the tools and resources to enable a happier and more balanced lifestyle.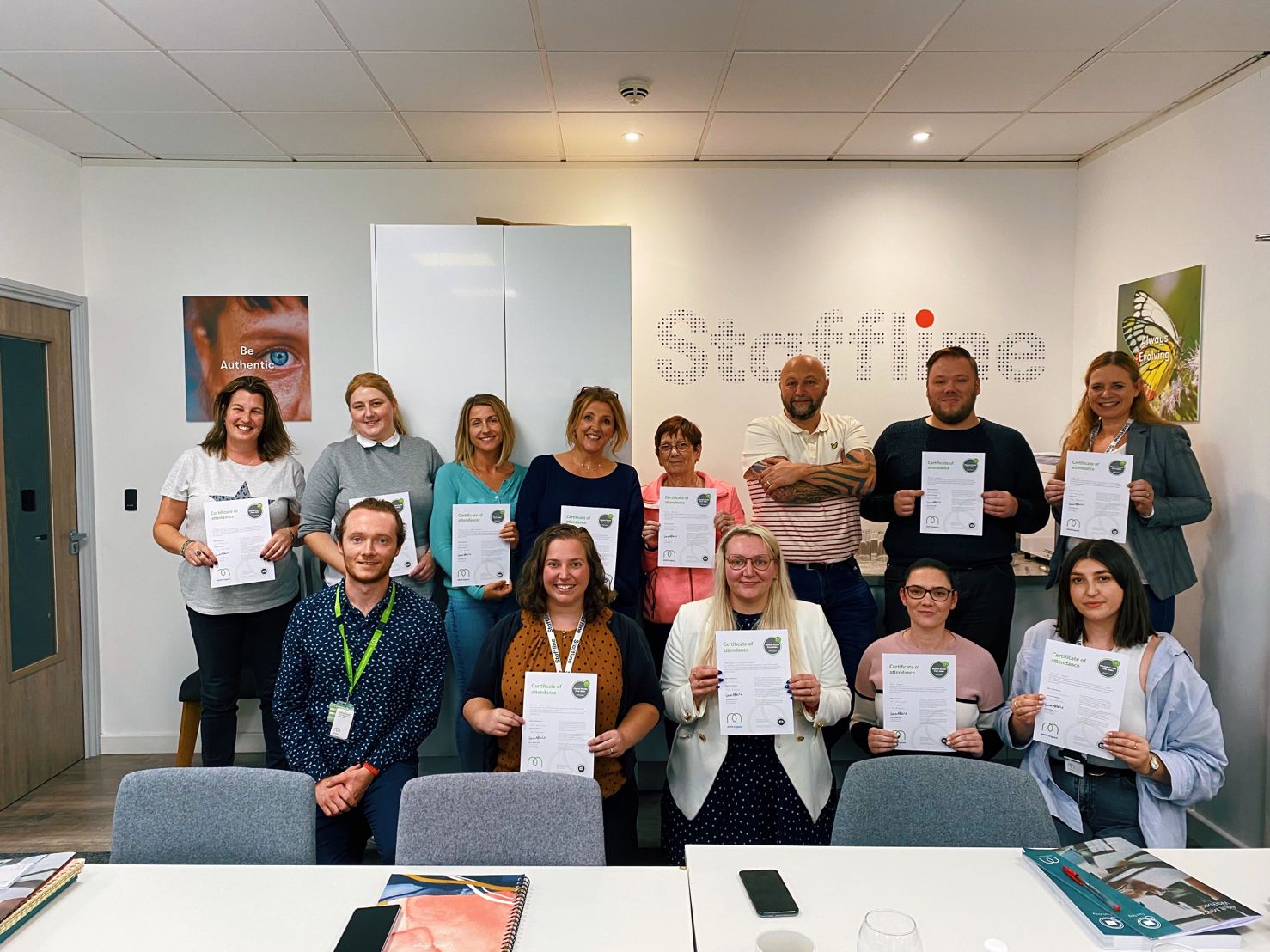 The two-day MHFA course included best practice in applying first aid to someone who might be in a mental health crisis, following the five-step action plan ALGEE:
- Approach the person, assess and assist with any crisis
- Listen and communicate non-judgementally
- Give support and information
- Encourage the person to get appropriate professional help
- Encourage other support
The training also discussed ways in which we can understand our own mental health. The Stress Container looks at how we experience stress and how best to take action to manage our stress levels.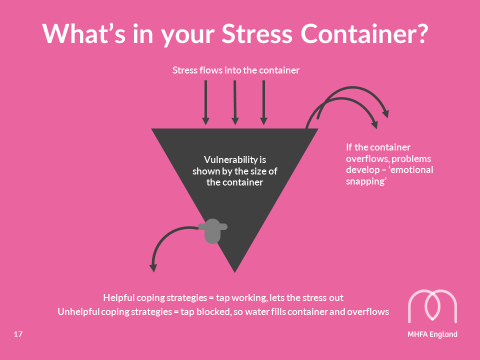 In order to ensure your container doesn't overflow, you need to make sure the tap is turned on through helpful coping strategies, this could be making time for positive experiences, getting adequate rest or asking for help from others.
Language and stigmas were also key focal points of the MHFA course. For example, using words like 'committing suicide' relates to when suicide was a crime, only being decriminalised in 1961. Additionally, the phrase 'Mental Health' generally has negative connotations and is viewed as a 'bad thing', when in fact we all have mental health and most of us experience mental health issues within our lifetime.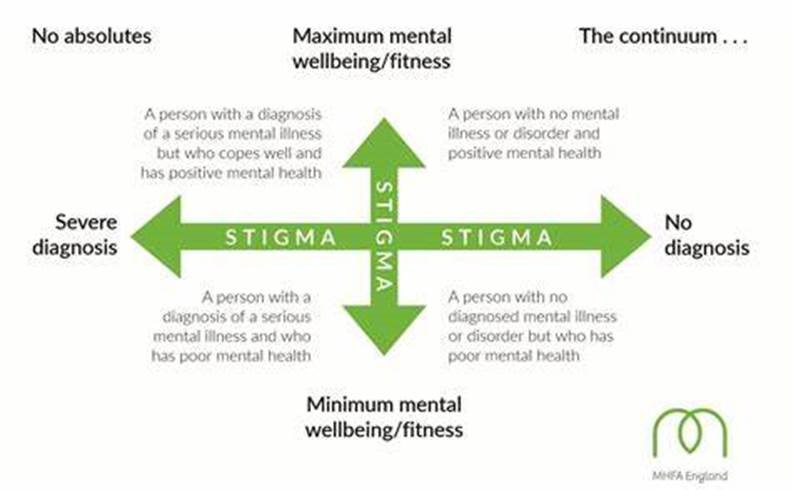 The next step for our Mental Health First Aiders is 'so what?', understanding how they can use their newly acquired knowledge to help not only colleagues, but friends and family who may be experiencing mental health issues.
As a company, it is our duty to continue to provide our colleagues with resources and support to ensure that we enable a happier and more balanced lifestyle.
---
An Overview of Staffline:
Established in 1986, Staffline is now the UK's largest recruiter and workforce provider, delivering OnSite workforce solutions to leading brands. We work in partnership with clients and candidates, meeting business needs and matching people with opportunities.

We specialise in large-scale recruitment, providing teams to help businesses succeed. Our support is flexible to meet changing demands.

We make the world of work simple, helping companies to find the right people and perform at their best. Our service and pricing are bespoke, and we offer complete protection on compliance and ethical standards.

Our OnSite services support a range of sectors including agriculture, food production, logistics, transport, manufacturing and the automotive sector. We're based at over 400 sites nationwide and find work for over 60,000 people each day.

Our new technologies include the AI chat bot, delivering 'always on' communication, the Universe platform, a game-changing candidate interface, and industry-leading customer experience management programme 'Have your Say'. These innovations drive our customer-centric approach. We lead where others follow.

The Staffline Group also includes leading public service provider PeoplePlus - which helps tens of thousands of unemployed and disadvantaged people find work each year.

Find out more at: www.staffline.co.uk