Between Monday 25th and Friday 29th October, Staffline celebrated Black History Month across the UK via our Learner Experience Platform (LXP).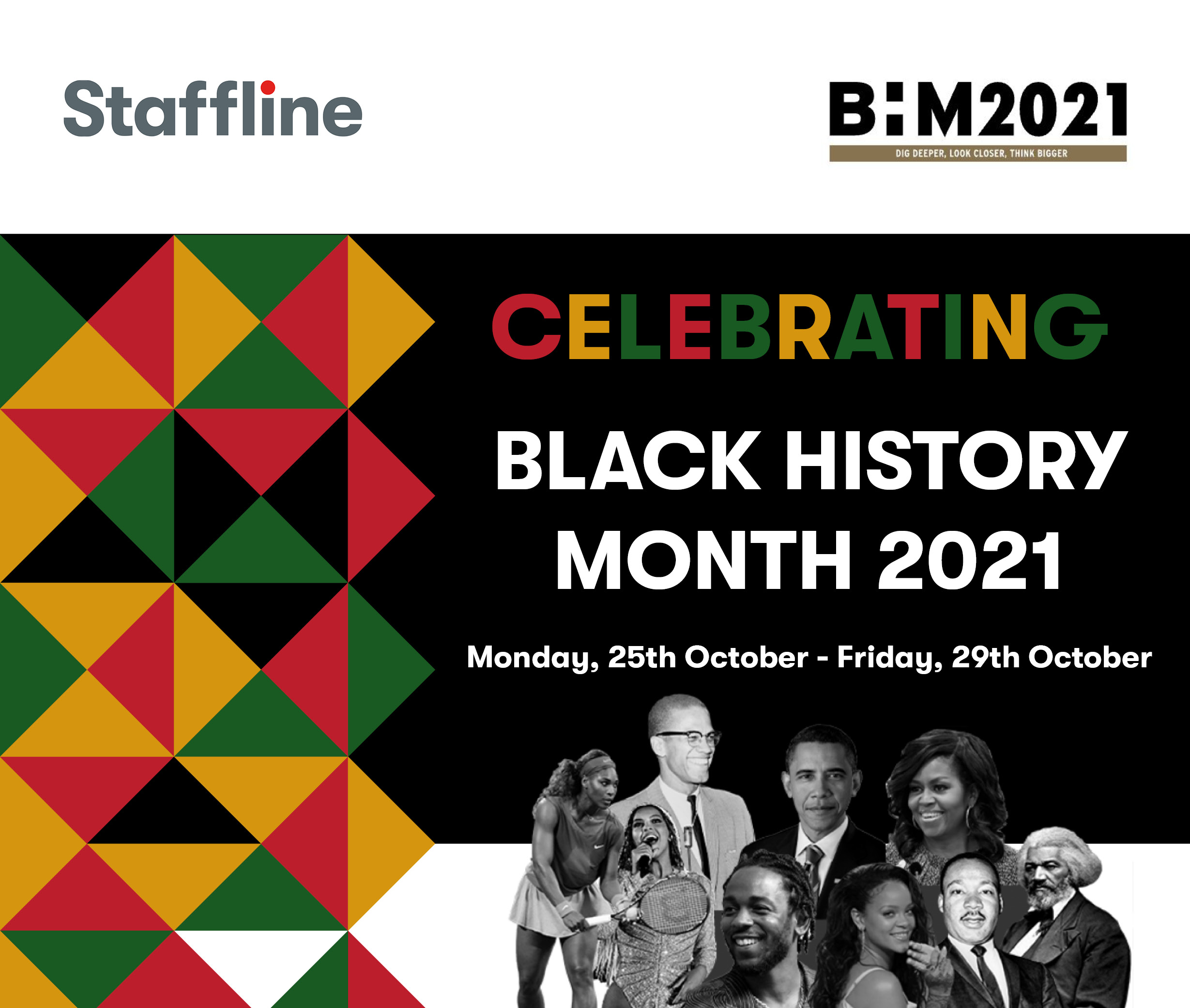 Black History Month is an annual observance throughout October in the UK. This years' theme is 'Proud to Be', inspired by Black Lives Matter and invites Black and Brown people of all ages throughout the UK to share what they are proud to be.
We spent the week raising awareness around US and UK Black history, together with educating our colleagues on the vast richness of diversity that Black and Brown people bring to the UK.
Content shared to our colleagues throughout the week was hand-picked by members of our Learning and Development Team from various sources, including the BBC and TEDx.
As part of the week-long celebrations, we invited Shan Saba (Director at Brightwork) and Kevin Harper (Account Manager at Brightwork and ex Hibernian Football Club player) to discuss the racial issues and challenges they have faced throughout their lives in this exclusive, one-off podcast (see below).

On Thursday, we were delighted to welcome a very special guest speaker, Ije McDougall. Ije is the Founder of The Kairos Initiative, a Magistrate and a HR/Employment Law expert. Her talk on Black Lives Matter was recently featured on the BLM website.
The webinar: 'Fighting Injustice: The Power of an Idea' discussed key moments in Black history and she continued with the prospect of realising something bigger than an idea, a louder 'counter idea'.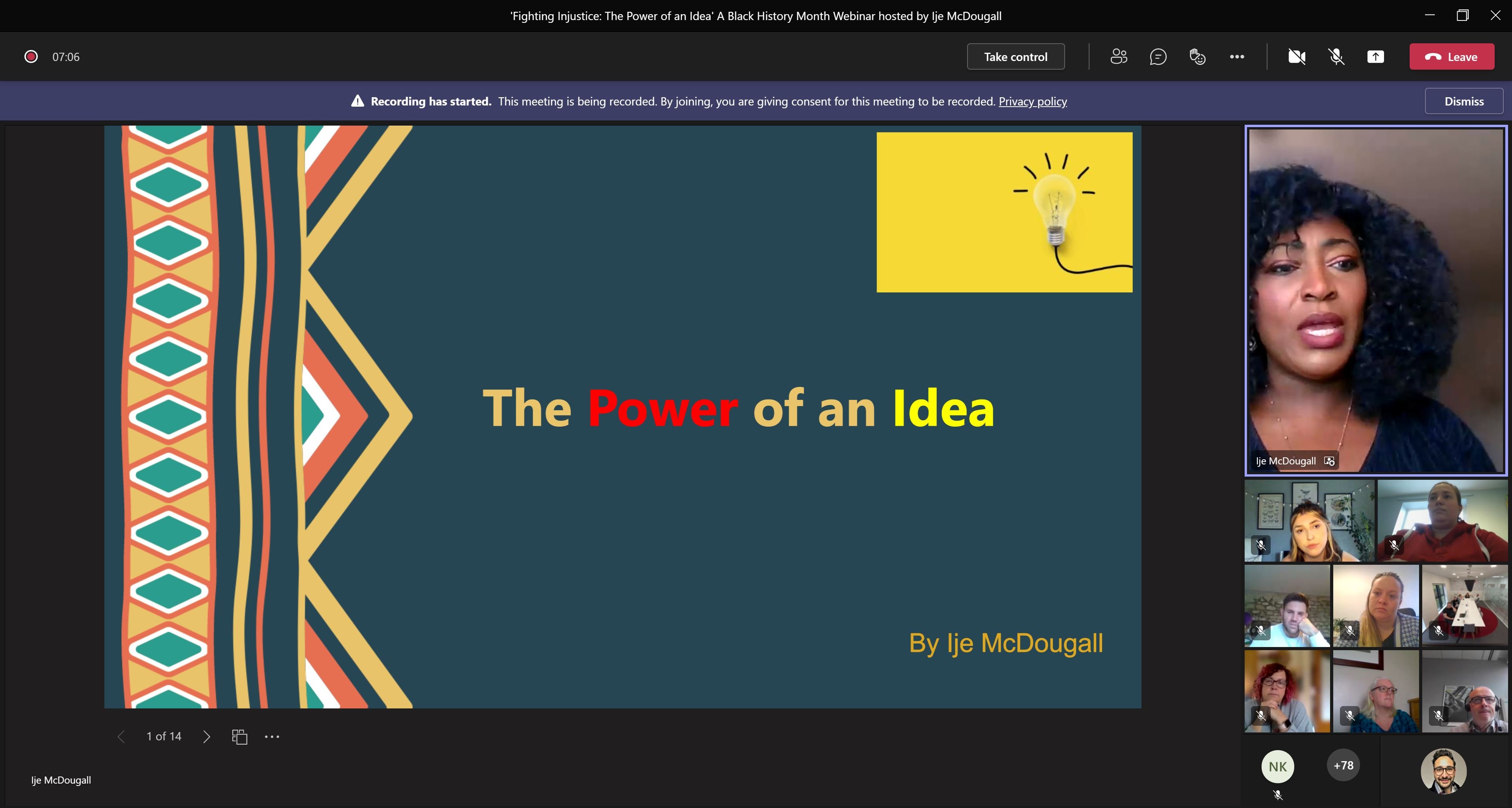 Allyship was a key focus point in the webinar, with Ije, born in Nigeria, sharing a powerful Nigerian phrase, 'Soro Soke' translated to 'Speak Up'. Her passion lied within encouraging people of all races and ages to interrupt outdated ideas.
She concluded with the 'counter idea' being the global movement, Black Lives Matter.
Our aim for this week was not only to celebrate and raise awareness for Black History Month, but also to encourage our colleagues to start having conversations about racial injustice, both inside and outside of work, and play their part in ensuring Staffline is a safe and inclusive space where everybody belongs.
---
An Overview of Staffline:
Established in 1986, Staffline is now the UK's largest recruiter and workforce provider, delivering OnSite workforce solutions to leading brands. We work in partnership with clients and candidates, meeting business needs and matching people with opportunities.

We specialise in large-scale recruitment, providing teams to help businesses succeed. Our support is flexible to meet changing demands.

We make the world of work simple, helping companies to find the right people and perform at their best. Our service and pricing are bespoke, and we offer complete protection on compliance and ethical standards.

Our OnSite services support a range of sectors including agriculture, food production, logistics, transport, manufacturing and the automotive sector. We're based at over 400 sites nationwide and find work for over 60,000 people each day.

Our new technologies include the AI chat bot, delivering 'always on' communication, the Universe platform, a game-changing candidate interface, and industry-leading customer experience management programme 'Have your Say'. These innovations drive our customer-centric approach. We lead where others follow.

The Staffline Group also includes leading public service provider PeoplePlus - which helps tens of thousands of unemployed and disadvantaged people find work each year.

Find out more at: www.staffline.co.uk