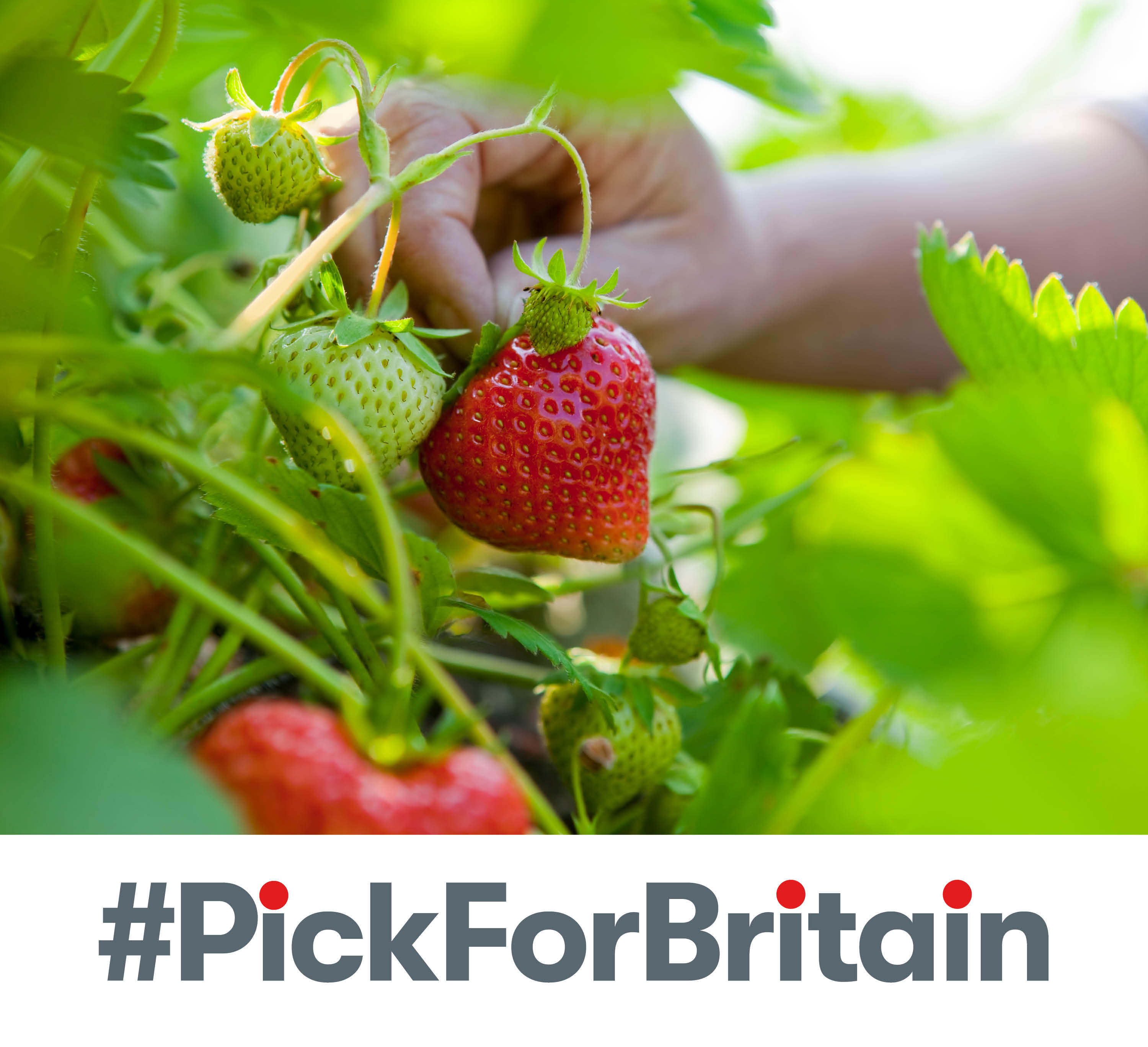 Covid-19 has re-shaped the dimensions of supply and demand in the UK labour market.

- Labour demand in travel, hospitality and much of the retail market has collapsed.
- Labour demand in food production, food supply, supermarket retail, transport and delivery services is massively outstripping current supply.

We are preparing to support our clients with their harvests.
Due to COVID-19, our nation's farmers are struggling to cope with increasing demand for freshly grown fruit and vegetables. Help us #PickForBritain and support UK farmers by applying for immediate roles across the UK!
How our #PickForBritain campaign can help employers
As the current Covid-19 situation continues to disrupt the normal day to day lives of workers and growers, we know that there will be a shortage of workers to harvest crops this summer. We are working with our clients in Kent, Lincolnshire, East Anglia and the West Midlands in order to provide workers who want to #PickForBritain and help #FeedTheNation.

Staffline supports the farming and horticulture industry with specialist, mobile workforce services.

Staffline is ideally placed to meet the needs of the 21st Century grower. We create tailored services and resource mobile, flexible workforces. Performance, monitoring and robust business reviews are key to our success. Our team has many years of experience.

We are passionate about farming. We provide consultative services to farms, nurseries, governing bodies, associations and government departments. For more information on how we can help your business through these difficult times, contact our urgent requirements team, who will help to create a bespoke recruitment plan to support the increase in demand.
Find out more at: www.feedthenation.co.uk/pickforbritain
---
An Overview of Staffline:
Established in 1986, Staffline is now the UK's largest recruiter and workforce provider, delivering OnSite workforce solutions to leading brands. We work in partnership with clients and candidates, meeting business needs and matching people with opportunities.
We specialise in large-scale recruitment, providing teams to help businesses succeed. Our support is flexible to meet changing demands.
We make the world of work simple, helping companies to find the right people and perform at their best. Our service and pricing are bespoke, and we offer complete protection on compliance and ethical standards.
Our OnSite services support a range of sectors including agriculture, food production, logistics, transport, manufacturing and the automotive sector. We're based at over 400 sites nationwide and find work for over 60,000 people each day.
Our new technologies include the AI chat bot, delivering 'always on' communication, the Universe platform, a game-changing candidate interface, and industry-leading customer experience management programme 'Have your Say'. These innovations drive our customer-centric approach. We lead where others follow.
The Staffline Group also includes leading public service provider PeoplePlus - which helps tens of thousands of unemployed and disadvantaged people find work each year.
Find out more at: www.staffline.co.uk