In this, the first of our regular deep dives covering important topics relating to the flexible and general employment markets, industry specialist and Staffline's CSO, James Wilson, takes a look at current market dynamics and the factors at play that favour flexible workforces within the staffing mix.
---
The Shifting Sands of Workforce Management
As 2023 continues to reveal itself, the world we find ourselves in today is much changed from that of just 12 months ago. Inflation, while predicted to fall during the second half of this year, remains at stubbornly high levels not seen since 1981. This combined with the legacy of COVID and continued supply chain uncertainty, means a new outlook for markets and employers.
---
Factors & Forces – Downward Pressure On Demand
As consumers, we all have less to spend. CPI inflation is currently running at 10.4%, with much of this driven by increases in essentials. Food inflation, for example, is 16.8% and electricity prices in the UK rose by 66.7% and gas prices by 129.4% in the 12 months to February 20231.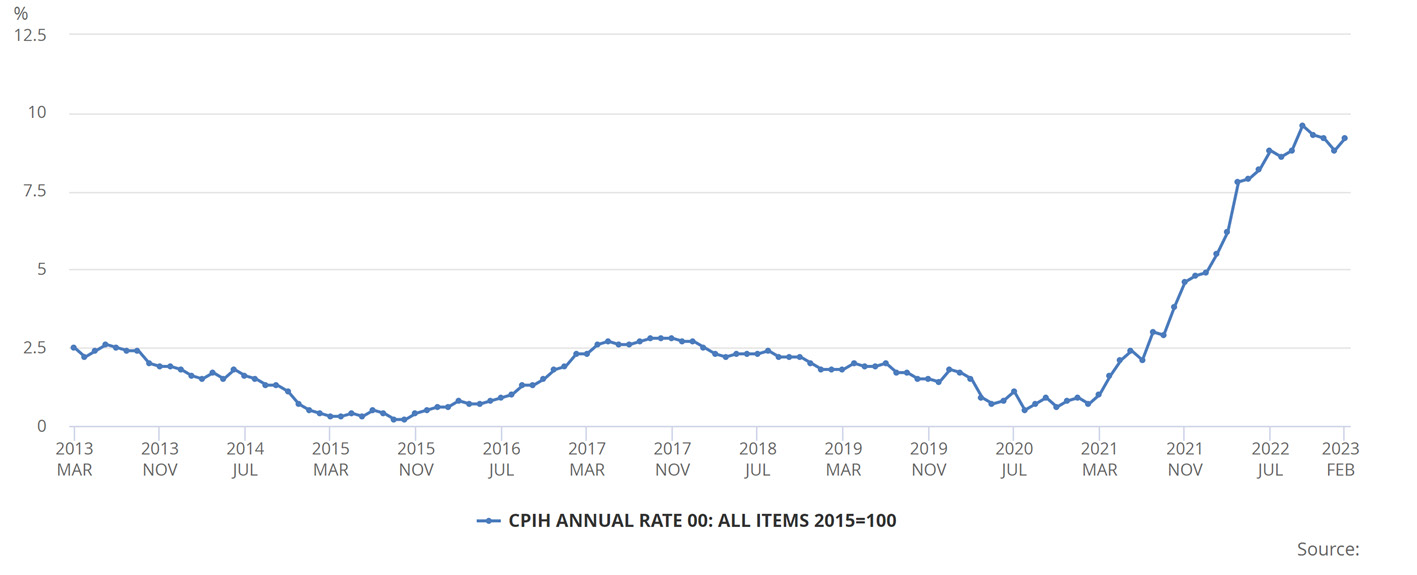 1 Office for National Statistics (ONS). CPI and fuel inflation figures 12 months to February 2023 and food inflation 12 months to January 2023.
Spending a much larger proportion of our income on essentials and the money in our pockets being worth less today than yesterday, means simply that discretionary spending is down. Massively down.
Any figures that show any resilience in spending will merely be reflecting the fact that everything is more expensive, not that people are buying more.
---
An Increase in Worker Availability
Reduction in demand is already leading to significant increases in labour availability and this trend is set to continue for the foreseeable future. In parts of the country that have become notorious for labour shortages (Spalding, for example) we are now seeing site closures, lay-offs and greater numbers of candidates available. Whereas in 2022, candidates could take their pick of roles, in 2023 we are seeing a shift to there being more candidates than jobs.
"In December 2022 to February 2023 the estimated number of vacancies fell by 51,000 on the quarter to 1,124,000. Vacancies fell on the quarter for the eighth consecutive period and reflects uncertainty across industries, as survey respondents continue to cite economic pressures as a factor in holding back on recruitment."
Office for National Statistics
This trend is particularly clear in frontline roles including warehouse and manufacturing operatives. And whilst skilled permanent hiring is still buoyant; we envisage that a general slacking of demand may begin to affect these types of roles as well.
Although recent data has predicated that the UK is likely to avoid a deeper downturn, the general economics remain sluggish at best. As a result, 2023 has already seen companies in a variety of sectors closing, or reconfiguring and relocating entire departments and operations. In some instances, entire pools of labour are coming back into the recruitment market. This often includes some of the highest skilled and highest quality candidates.
For companies in sectors where skills have been in short supply and where they have previously struggled to hire, this can present an opportunity to re-evaluate their current workforce and phase out or reallocate less productive or skilled workers they have been carrying through necessity due to the legacy of a tight labour market in 2022.
---
Market Uncertainty, A New Normal
The shock waves first felt in early 2022, as a result of the unexpected war in Ukraine just as the corner was being turned on Covid, may have dissipated but things continue to change quickly and unpredictably.
Companies need to face into this 'new normal' and be able to react with greater flexibility.
Increased political instability and government policy, including strike action, IR35 and tax policy flip-flops
Companies under stress cutting services and service levels, suddenly increasing prices or going into liquidation
Companies choosing to change suppliers rapidly due to cost imperatives and compliance concerns.
Volatile public spending habits impacted by factors including reduced discretionary spend, 'nostalgia' and comfort purchasing, and increased promotional activity by companies to keep stock moving – including, 'hot' product sales often driven by social media (Prime Hydration drinks anyone?).
All the factors mentioned, as well as a general lowering of business confidence around traditional peak trading periods and disunity among those in the know around the timetable for the UK's economic recovery has done little to support decision making and, in many cases, has given rise to last minute business decisions around volumes.
---
Shift From: Suppliers' Market -> A Buyers' Market
As 2023 progresses, we are seeing a shift from what was ostensibly a market favouring the candidate to one that, today, increasingly favours the hirer.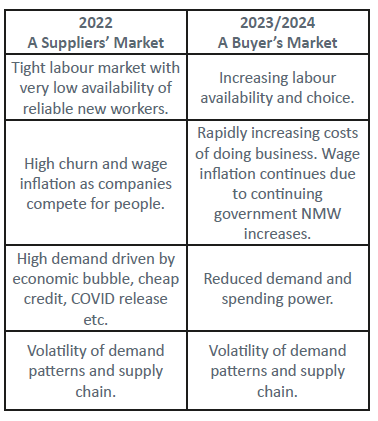 Source: Staffline Recruitment GB
---
Lessons from 2008-2010?
Look Back to Look Forwards
So, how do companies best meet this new world of reduced demand, increased costs and squeeze on finances, increase in available labour and an ongoing requirement for more flexibility?
In 2008, the most recent analogue year to 2023, we saw a general and sustained increase in flexible workforce requirements from UK businesses after an initial and relatively brief period of general tightening, restructuring and redundancies.
Why did this happen?
Many companies had been through the difficult

and expensive process of restructuring and managing redundancies of their permanent employee headcount. They did not want to go through this again.





Even companies that did not downsize saw the market challenges and realised that fixed costs represent a potential future danger in a world of increased uncertainty, just-in-time, manufacture-on-demand, and more flexible demand trends.





Companies wanted more ability to recruit and retain based on ongoing individual performance and productivity rather than time served.





Companies wanted more freedom from legacy contractual terms that were agreed and implemented in a high-demand, tight labour market but were not cost effective or 'market rate' in an economic downturn.





Companies realised that outsourcing workforces to reliable and experienced recruitment services firms was actually more cost effective than retaining and managing a fixed headcount.
---
Why Outsourcing a Flexible Workforce is Often More Cost Effective
Reduced HR & Payroll Costs
Q: How much does it cost you to process each timesheet?
A: Your recruiter will handle the processing of payroll for the outsourced workforce.
Q: How much are you spending on grievances and tribunals annually?
A: Your recruiter will manage any queries and challenges for the workforce they supply.
Q: How much does general performance review & HR management cost your business?
A: Your recruiter will manage performance reviews so your teams can focus on productivity.
Reduced Hiring Costs
Q: How large is your talent team and how can they manage to process a large number of applicants quickly with the right candidate experience every time?
A: A good recruiter will typically have more recruitment resources and will be used to handling and screening large volumes of applicants quickly.
Q: What does your talent team cost when you are not hiring?
A: A good recruiter only charges when supplying.
Q: How much do you spend on advertising and do you know if you are spending in the right place?
A: A good recruiter will know exactly how to recruit and will monitor which channels produce the most success.
Other Factors
You do not need to offer all legacy perm benefits to an outsourced workforce, especially if you outsource total departments or job roles





You can align labour costs to 'market rates'.





You can quickly assess individual productivity and performance on an ongoing basis with fast recourse for change. You can drive the right behaviours and performance more quickly. Many businesses find that flexible workers actually outperform permanent employees.





We have access to large labour pools and the ability to utilise workforces between clients throughout the year.





We provide value for both the client and the worker. We keep the individual worker in employment when they need it, helping them migrate between peak periods and remain in work, not being tied to the demand curve of their fixed employer.





If the worst comes to the worst, recruiters will redeploy the workforce to other businesses, and you will not have the redundancy burden.
---
The Pathway to More Flexible Hiring
Increasing your flexible headcount may not be as hard as you imagine:
Pause Permanent Hiring
When permanent employees leave your business, consider recruiting replacements as temporary and/or flexible workers. This will give you the opportunity to rebalance your workforce as market situations evolve.
Strategically Outsource
Look at areas of the business where there is the most flexibility in demand and the most risk of fixed costs. Usually these are frontline, high-volume roles ranging from assemblers, to packers, to contact centre operatives, etc.
You could choose to target a fixed percentage of these roles for outsourcing to recruitment service providers. Or, you could select to outsource entire departments, whilst retaining management personnel and overall control.
For example, 'production line A' could be entirely staffed by agency workers, whilst team leaders are retained as employees of your business.
Of course, any outsourcing process must be carefully managed by the supplier you engage. You would also need to ensure there is no negative impact on outsourced individuals or your operation. Remember too that outsourcing and bringing in temporary labour is not a one-way ticket. You could always choose to hire more permanent employees when needed, at a future date.
In the current economy, your risk is not too much flexibility, it's not being flexible or cost-efficient enough.
Increasing your flexible workforce percentage is a logical solution to a range of business challenges presented by the economic outlook, in one of your highest spend areas – people. Outsourcing will be more cost-effective and with better results than doing it yourself, giving you more time to focus on protecting and growing your business in 2023 and beyond.
---
Get in Touch
If you've got any questions or comments regarding the content, please contact James Wilson (Chief Sales Officer at Staffline) on: james.wilson@staffline.co.uk or a member of the New Business Team on: newbusiness@staffline.co.uk.
---
Editor's Notes

James Wilson, Chief Sales Officer at Staffline, has worked in the flexible recruitment industry for 25 years in operational and business development roles, including 15 years with Staffline.
During this time, he has developed many high value relationships, helping UK businesses maximise opportunities from their recruitment supply chain, and building temporary and permanent recruitment services solutions on a national basis.
Staffline Group PLC is the UK and Ireland's largest recruiter and social employability business, supplying 50 million flexible workforce hours and 7,000 perm placements annually to many leading brands from 450 locations.
---
An Overview of Staffline
Founded in 1986, Staffline is the UK's leading provider of flexible blue-collar workers, supplying approximately 50,000 staff per day on average to around 450 client sites, across a wide range of industries including agriculture, supermarkets, drinks, driving, food processing, logistics and manufacturing.
Find out more at: https://www.staffline.co.uk/