In preparation for Anti-Slavery Day, we'd like to share a message from Jane Bladon (Director of Compliance & Ethical Standards) at Staffline.
Modern slavery is the severe exploitation of other people for personal or commercial gain. It is all around us, but often just out of sight. People can become entrapped making our clothes, serving our food, picking our crops, working in factories, or working in houses as cooks, cleaners, or nannies.
At Staffline, we place the welfare of our workers at the heart of everything we do, ensuring our workers are treated correctly and all common indicators of labour exploitation are spotted and investigated. We call them Red Flags.
Doing the right thing and using the scale of our business to play our part in tackling Modern Slavery is a passion shared throughout our company. By working closely with the GLAA, Police, our clients and other like-minded partner organisations, we can work together to help potential victims, expose exploiters, and share key learnings. All of this is embedded into our ways of working.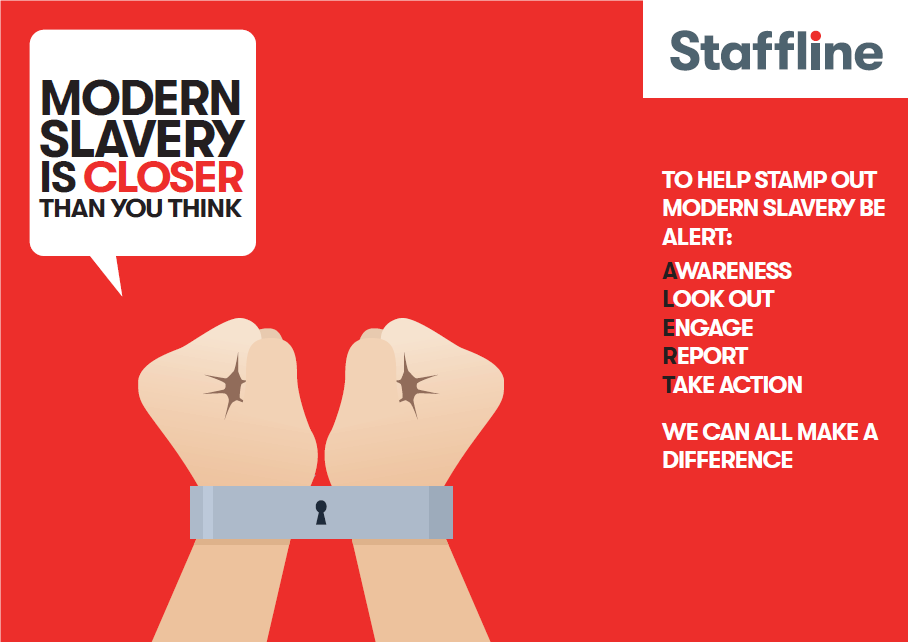 Victims of Modern Slavery often end up in these situations because they were vulnerable, tricked or trapped and then exploited by the people they trusted to give them a better life. Our job is to help find the victims in our supply chain and help them.
From the outside looking in, it often seems like normal workers just working hard & earning a living. But behind the scenes, people are being controlled. They face violence or threats, being forced into debt, have their passport taken away and are forced to stay in overcrowded houses. Many have fallen into this oppressive trap simply because they were trying to escape poverty or insecurity, improve their lives and support their families.
We are extremely proud of the work we do and are committed to continuing to do the right thing and help change the lives of many more victims. Thank you to all that have worked with us along the way, and we would like more businesses to engage with us and join us, collaboratively we can work better together, sharing our processes, best practices and key learnings.
Lets work together to embed the checks and raise awareness. Share the peace of mind that workers in our businesses are safe and free from Modern Slavery in the UK.
Implement the Stronger together training for all frontline supervisors, spread the responsibility to watch out for your workers amongst all of the senior management team, spot it, report it.
Join us in the fight to tackle Modern Slavery in the UK, change lives today.
---
An Overview of Staffline:
Established in 1986, Staffline is now the UK's largest recruiter and workforce provider, delivering OnSite workforce solutions to leading brands. We work in partnership with clients and candidates, meeting business needs and matching people with opportunities.

We specialise in large-scale recruitment, providing teams to help businesses succeed. Our support is flexible to meet changing demands.

We make the world of work simple, helping companies to find the right people and perform at their best. Our service and pricing are bespoke, and we offer complete protection on compliance and ethical standards.

Our OnSite services support a range of sectors including agriculture, food production, logistics, transport, manufacturing and the automotive sector. We're based at over 400 sites nationwide and find work for over 60,000 people each day.

Our new technologies include the AI chat bot, delivering 'always on' communication, the Universe platform, a game-changing candidate interface, and industry-leading customer experience management programme 'Have your Say'. These innovations drive our customer-centric approach. We lead where others follow.

The Staffline Group also includes leading public service provider PeoplePlus - which helps tens of thousands of unemployed and disadvantaged people find work each year.

Find out more at: www.staffline.co.uk